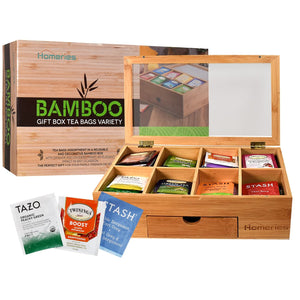 EVERY TEA LOVER'S HEAVEN: Whether you are a tea devotee who takes their tea ritual very seriously or you are just now entering the delicious world of tea, the Homeries complete tea bag set will have you covered. With a wide range of all popular and exotic flavors, this beautiful bamboo gift box tea bag set is a splendor to the eyes and will instantly warm up the ambiance to put you in the mood for a hot cup of heavenly aromatic tea.

GREAT ASSORTMENT OF 30+ UNIQUE FLAVORS: Enjoy a sip from every unique taste of aromatic teas and explore more than 30 amazing flavors at the coziness of your home. Each tea sampler gift set box is packed with tea infuser bags from three different brands, including classic flavors such as English Breakfast, English Afternoon, Earl Grey, Chamomile, Green Tea, as well as a variety of less common, yet delectable flavors. [Note: The variety of tea flavors may vary.]

BEAUTIFUL DECORATIVE BAMBOO BOX: Designed to add a tone of elegance to any space, this bamboo tea bag organizer can be reused as a decorative box or as a tea storage container for a variety of handy uses. Whether for your kitchen, the pantry or your home bar, our beautiful bamboo assortment box will keep all your tea bags neatly organized and nicely displayed at all times!

DELIGHT EVERY TEA LOVER IN YOUR LIFE: This is the perfect, thoughtful and pampering gift for that special friend or relative who is a tea connoisseur, or for that loved one who simply loves to enjoy their little tea ritual every evening. Why not surprise them with a unique variety tea pack with some of the most delicious, aromatic tea blends that will travel their senses with every sip?

EXPLORE THE TOP SELECTION OF 3 DIFFERENT TEA BRANDS: Each of our bamboo tea assortment comes with a huge selection of 80 tea bags in a wide variety of flavors [around 35 different flavors per pack]. Our sampler tea box combines a great selection of three outstanding branded teabag mixes, granting you an even broader variety to explore, sip by sip!