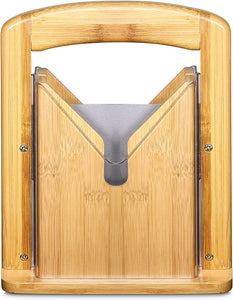 DETAILED CRAFTSMANSHIP - Complement your classy kitchen with the premium workmanship of our bagel slicer with the wooden guard edge, highly stable base, a guillotine-like high-carbon steel blade and a clear polycarbonate shield for protection.
PRECISE CLEAR-CUT BLADE - Have confidence with even and undeformed bagel cutting with the non-stick, 7 inches tall slim blade added with sharp serrated edges which achieve smooth and precise bread slicing.
FAST, SAFE AND CONVENIENT - This bagel cutter is designed for paramount protection with its transparent safety shield, safety guard on both ends and an easy grip handle that adds to comfortable and easy-to-use cutting experience.
HASSLE-FREE CLEANING - Sanitation is easy with the separable components of this  bagel slicer. You may manually reach small corners for cutting leftovers and dirt or even clean this space-saving slicer with your dishwasher.
MULTIPURPOSE PURPOSE - This ultimate guillotine bagel cutter can become your multipurpose bread slicer for commercial or homemade breads, muffins, buns and rolls. No more slicing uneven and messy bagels with our Homeries Bagel Slicer!