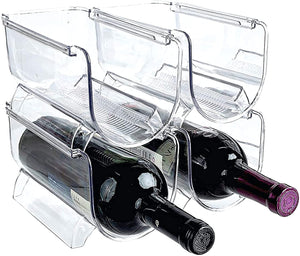 Stop The Bottle Of Wine Rolling Around In Your Fridge Or On The Countertop With Homeries Wine & Water Bottle Refrigerator Organizer
You are a wine lover it seems?and you love collecting wine but hate the clutter & the stress of storing them. We have the perfect solution, which will give your precious bottles much-deserved attention & care. Homeries Water Bottle & Wine Rack Organizer keeps the bottles safe, perfectly stored & easily accessible. Great for organizing the fridge or for displaying bottles in wine tasting parties.
Holds More Than You Think:
This wine bottle storage organizer stores wine bottles & water bottles wonderfully & neatly, but its uses go beyond that. Use this wine rack holder to store everything from travel mugs & tumblers to baby bottles, sauces, soda, seltzer, pop bottles, fitness drinks & food cans. Wine holder rack measures 3.8" x 8" x 4" & can hold everything that fits in perfectly.
Fits Any Space & Every Need:
This wine bottle holder is functional, practical & convenient than any other organizer you will find in the market. It can be customized & tailed according to your need. Just have two bottles to store? Simply detach the bins. Want to chill two bottles in the fridge & store two in the cabinet? Not a problem! Don't have enough space? Vertically stack additional layers for extra capacity. This standing wine rack organizer is like a block game. You can build it according to your storage space & convenience. Isn't it wonderful?
All About The Quality:
Shatter & break-resistant
Two curved arches on the bottom prevent wobbling
Won't rust or corrode unlike metal holders
Food safe & BPA free materials

Practical, Convenient & Better Than The Rest:
Non-Slip: The ridges on the bottom keep the bottles secure
Elegant: The clear acrylic construction complements every decor
Safe: The wave shape prevents the bottles in one position
Practical: Stackable for maximum storage