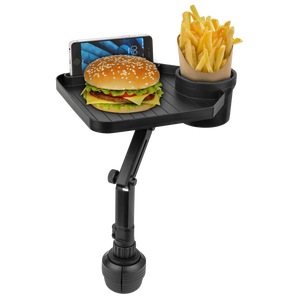 IN-CAR DINING MADE EASIER - Homeries Car Tray Table is specially designed to provide a comfortable dining experience for people who often eat in their car. Now, you can stop putting your meals on your lap and achieve a cleaner way to eat in the car!

EXTRA SPACIOUS DESIGN - This Car Food Tray can hold a whole burger and fries. It comes with a separate slot for your drink so you can ensure a mess-free car banquet. The padded phone slot allows you to enjoy your snack while watching movies, etc.

STURDY, ADJUSTABLE ARMS - Its Swivel Arm offers 360° rotation so turning the Food Car Tray from the driver to the passenger is a breeze. It is also jointed for height adjustment at up to 180° – super easy to modify depending on your needs!

COMPATIBLE TO MOST CARS - Our Eating Car Tray offers wide compatibility – perfectly suited to most cars, boats, trucks, RVs, and golf carts. It is important to note that it won't work on cars where the cup holder is angled in a recessed basin or hidden in a compartment.

HASSLE-FREE INSTALLATION - Its base expands from 3-4 inches wide – enough to fill your cup holder for a super rigid and steady installation with no wobbling! It will only take a few seconds to have your Car Tray Table ready!